Bryce Hipps
A little about myself –
I've been interested in art since a very young age. I'm always asked what I do, and many times I've responded 'website designer' to avoid a long explanation of the many hats I wear. My grandad labeled it best. After I gave him a long explanation and showed him examples of work I'd done, and he casually said: "Oh, you're a website artist." I think that description fits what I do best.
My background goes back to a lifetime of having a keen eye for what works visually and what doesn't. Growing up primarily with my Mother, she asked me my opinion of her outfit for work on an almost daily basis, and it was interesting to learn later at JMU's school of Fine Arts just why I had such strong opinions of color, form, contrast, spacial relationships, etc. I am proud to be putting those skills to work since graduating James Madison in 2006.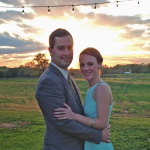 I now help business owners and organizers implement creative solutions. I went into business for myself February 1, 2014 after 8 great years at CAM marketing – where I partnered with my dear friend Amy. I live and work in Varina, VA – on the east side of Henrico county where I enjoy sharing my quiet country life with my lovely wife Ashley and our pup Lucy.
I value the personal nature of my business and pride myself on maintaining excellent client relationships. Much of my work comes by way of recommendations from previous clients. I encourage anyone who is considering hiring a creative professional to reach out to any one of my clients to ask their take on my services.